The north-eastern tip of the Arabian peninsula, with its mighty limestone mountains, complex tangle of majestic fjords, countless isolated bays, remote islands and spectacular views, remains as austere and remote as it has been for thousands of years. Set apart from the rest of Oman by a seventy kilometre tract of UAE land, this is the least known and least populated region in Oman. Far from insignificant however, the peninsula overlooks one of the world's most strategic waterways, the strait of Hormuz.
Here, small islands and peninsulas, coral reefs and ancient and isolated villages which cling onto tiny bays, shut in by deep sea and steep cliffs, can only be explored by boat. Magnificent fortress-like cliffs rise vertically out of the smooth, shining, blue turquoise waters of the fjords, their tectonic layers pointing like arrows towards the sky, to then plunge dramatically into the deep valley of the wadis.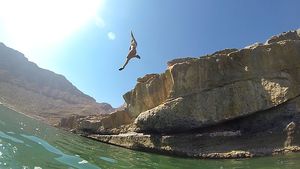 Marine life is abundant and thriving here. Renowned for its invigorating drift diving, the real life and riches of the Musandam lie under the surface. More than nine hundred species of fish are attracted by the combination of strong local currents and plankton, including eagle and manta rays, as well as whale sharks and dolphins. Here drop offs encrusted with thriving coral are immersed to a great depth and dives sites vary from extensive coral gardens to walls.
Ascending the pensinsula's highest peak of 2000m, entails encountering rough terrain on an exhilaratingly dramatic road. Having risen above the coastal green oasis of Khasab, strange, deep gorges hollowed out of the rock walls by rainwater are revealed. Jabal Harim has housed extremely isolated communities for centuries, who live in their rock-hewn houses, hidden in crevices and under overhangs. Towards the upper part of the ascent, the small, very attractive and unexpectedly lush and grassy meadows of the Sayh Plateau come into sight. At the peak one is assaulted by spectacular views - a landscape cleft by narrow, deep valleys and undoubtedly one of the most impressive natural panoramas to be seen in Arabia.